Being Human 2020 - Creation/Creating Stories
Book online
This family-friendly workshop will introduce young audiences to Indigenous storytelling and creation stories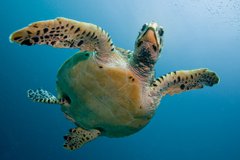 Times
---
Price
Free. Advance booking essential
---
Booking
Tickets are released at 9am on Thursday 1 October.
There are 20 spaces per session and all attendees must book a ticket, regardless of age.
What are creation stories? How are creation stories told? This family-friendly workshop will introduce young audiences to Indigenous storytelling and creation stories drawing on the Great North Museum: Hancock's Indigenous collections from North America.

Using crafting and storytelling, you will create your own creation stories or imagine an alternative, new world you would like to inhabit.
You will be invited to share your stories at the end of the workshop and/or via the Museum's online platforms.
A self-guided story trail will also be available to help you explore the Museum's collections and other learning sources on Indigenous storytelling.
Suitable for ages 5-11 (KS1 and KS2).
Image: A turtle. Some Indigenous peoples refer to North America as Turtle Island, based on a common creation story.
---
The Being Human Festival highlights the way in which the humanities can inspire and enrich our everyday lives, help us to understand ourselves, our relationships with others, and the challenges we face in a changing world.
This interactive event is organised by Northumbria University and the Great North Museum: Hancock.