KS1, KS2 & KS3 Archaeology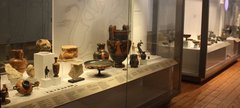 To support groups learning about Ancient Greece we are offering 'Ask and Answer' sessions in the Museum. Bring your group to the museum to gather research in the Shefton gallery before meeting our expert to help answer any curious questions.
Please be aware that this is not a standalone session and is only offered to groups who spend time beforehand researching the subject. This short session aims to create higher level questioning about the topic or museum objects that they have been unable to find answers to.
The main learning objectives for this session are:

To improve speaking and listening skills
To increase knowledge on the Ancient Greece